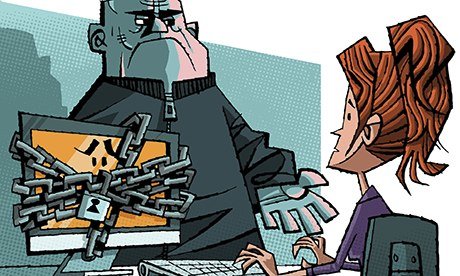 While there is nothing new about ransomware – different forms of it have been circulating since as far back as 1989 – in recent weeks internet security firms have reported a surge in computers affected.
In a recent article posted on the Guardian, one version has been highlighted and is cleverly hidden in an email complaint from a supposedly unhappy customer.
It was from paymentsadmin@lloydsplc.co.uk, and Sarah Flanders, a 35-year-old charity worker from north London, didn't think twice about opening it. But the email contained software that immediately began encrypting every file on her computer – from precious family photos to private correspondence and work documents. In just a short time all her files were blocked, and then a frightening message flashed up on her screen: "Your personal files have been encrypted and you have 95 hours to pay us $300."
According to the Guardian article, if infected you will no longer be able open, read or view your files, anyone with the decryption key could easily do so.
That means any of your documents containing passwords or personal information, along with your photos and videos, could potentially be accessed by cyber-criminals – and although there is no evidence of encrypted files being uploaded or sold on for this purpose at the moment, it is theoretically possible.
CryptoLocker currently only affects PCs and can easily be removed with anti-virus software, but its effects cannot. "I don't think anyone in the world could break the encryption," says Gavin O'Gorman, spokesman for internet security firm Symantec. "It has held up for more than 30 years."
Of course, digital security is a major part of what we do here at PC Survivors of Massachusetts. If you're looking for a safe and secure way to recycle your computers, please check out our services.
If you're looking for a reliable asset disposal service, PCS of Massachusetts is ready and willing to help you recycle your electronics and destroy your data.  Give us a call at (781) 335-1220 or contact us online here.